Urutan Baca
Berikut ini urutan baca selengkapnya dari event "Heroes in Crisis", termasuk juga komik-komik tie-innya. Jika ada tambahan nantinya akan dikoreksi / dilengkapi lagi di bawah ini.
Heroes in Crisis #1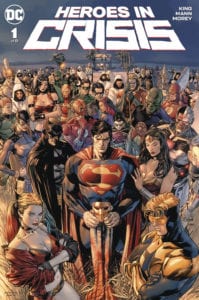 There's a new kind of crisis threatening the heroes of the DC Universe, ripped from real-world headlines by C.I.A.-operative-turned-comics-writer Tom King: How does a superhero handle PTSD?

Welcome to Sanctuary, an ultra-secret hospital for superheroes who've been traumatized by crime-fighting and cosmic combat. But something goes inexplicably wrong when many patients wind up dead, with two well-known operators as the prime suspects: Harley Quinn and Booster Gold! It's up to the DC Trinity of Superman, Wonder Woman and Batman to investigate—but can they get the job done in the face of overwhelming opposition
Story: Tom King
Art: Clay Mann
Color: Tomeu Morey
Letter: Clayton Cowles
Judul Edisi: I'm Just Warming Up
Tanggal Rilis: 26 September 2018
Edisi pembuka terdiri dari dua bagian. Yang pertama adalah Harley Queen yang tiba-tiba menyerang Booster Gold. Booster Gold mengaku melihat Harley Quinn membunuh para superhero di Sanctuary, sebaliknya, Harley Quinn mengaku menyaksikan Booster Gold yang melakukannya. Sementara itu, di bagian kedua trio Trinity sedang on the way menuju Sanctuary. Dari yang diperlihatkan, korban pembunuhan meliputi Citizen Steel / Captain Steel (belum jelas), Lagoon Boy, Hot Spot, Arsenal, Flash (Wally West), dan Blue Jay. Selain itu juga terlihat lengan seseorang dengan kostum berlogo Green Lantern serta karakter lain bersayap putih (Hawkgirl?). Ada semacam cuplikan wawancara dari beberapa karakter yang memberikan latar belakang kenapa mereka bisa berada di Sanctuary.
Tidak banyak cerita di sini, tapi saya rasa cukup untuk membuat kita semua penasaran dengan kelanjutan mega-event ini.
Green Arrow #45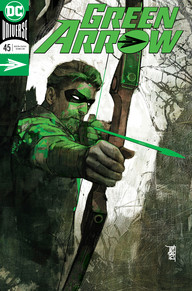 In this Heroes in Crisis tie-in, Oliver Queen is forced to take a hard look at himself and evaluate his methods after he fails one too many times trying to do the right thing. It's a dark, depressing stroll down memory lane for the Emerald Archer, as Oliver must come to grips with how he's hurt the people around him. This issue guest-stars members of the Justice League and the Titans, but are they there to console Ollie… or condemn him?
Story: Shawna Benson, Julie Benson
Art: Javier Fernandez
Color: John Kalisz
Letter: Deron Bennett
Judul Edisi: Draw And Release
Tanggal Rilis: 3 Oktober 2018
Komik ini menceritakan prosesi pemakaman Roy Harper (Arsenal) setelah diketemukan tewas di Sanctuary. Di antara semua rekan-rekannya, baik manusia biasa maupun superhero, Oliver Queen (Green Arrow) adalah yang paling terpukul. Ia sempat menyalahkan Justice League karena telah membiarkan itu terjadi, namun J'onn J'onzz (Martian Manhunter) berhasil menenangkannya. Di akhir cerita, Oliver berjanji pada dirinya sendiri untuk berintrospeksi dan memperbaiki diri, seperti yang sebelumnya tengah dilakukan oleh Roy.
Red Hood: Outlaw #27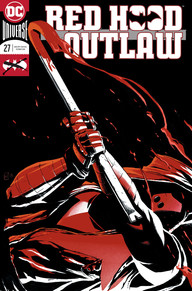 Everything changed for the Red Hood last issue. This time around, everything changes for Jason Todd! Devoid of partners and exiled from Gotham City, Jason gets a fateful message from the last person he expected to see again. The news he learns leaves him with no choice but to don the Red Hood mask once more and double down on his two-fisted crimefighting approach. Pray for whoever gets in Jason's way as "The Outlaw" kicks into high gear.
Story: Scott Lobdell
Art: Pete Woods
Letter: ALW's Troy Peteri
Judul Edisi: Outlaw Part 2
Tanggal Rilis: 10 Oktober 2018
Bruce Wayne (Batman) menemui Jason Todd (Red Hood). Jason mengira Bruce akan membahas mengenai dirinya yang diburu oleh kepolisian kota Gotham karena berusaha membunuh Penguin (Oswald Chesterfield Cobblepot). Dugaannya salah. Bruce datang untuk memberitahunya masalah Roy Harper (Arsenal) yang menjadi salah satu korban pembunuhan di Sanctuary.
Sebelum berpisah, Jason memeluk Bruce dan berterimakasih karena ia mau datang dan memberitahunya secara langsung. Bruce memastikan bahwa meski sering berbeda pendapat, tidak ada masalah antara dirinya dan Jason. Ia yakin di saat darurat, mereka masing-masing akan saling mendukung.
---