Beberapa waktu lalu sempat rutin menulis jadwal rilis komik, tapi akhirnya malas sendiri karena capek copasnya, hehehe. Kali ini saya coba aktifkan lagi postingan rutin mingguan ini, tapi dengan sedikit perubahan. Kalau sebelumnya berupa 'jadwal' (artikel dipublikasikan sebelum jadwal terbit komik), kali ini berupa daftar (artikel dipublikan setelah atau tepat pada hari terbit komik). Nah, tanpa basa-basi lagi, ini dia daftar rilis komik barat untuk periode 20 Januari 2016.
DC Comics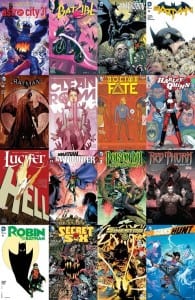 Berikut ini daftar komik DC Comics yang terbit tanggal 20 Januari 2016.
Batgirl #47
Batman #48
Batman And Robin Eternal #16
Batman Arkham Knight Genesis #6 (of 6)
Doctor Fate #8
Harley Quinn #24
Martian Manhunter #8
Poison Ivy Cycle Of Life And Death #1 (of 6)
Red Thorn #3
Robin Son Of Batman #8
Secret Six #10
Sinestro #19
Superman Wonder Woman #25
Titans Hunt #4 (of 12)
Wonder Woman #48
Yang terbit via penerbit Vertigo (anak perusahaan DC Comics):
Astro City #31
Clean Room #4
Lucifer #2
Ada serial komik baru dari DC minggu ini, Poison Ivy. Meski hanya miniseri, tapi setelah dibaca, edisi perdananya ternyata cukup memikat. Tunggu sinopsisnya di Curcol.Co ya 🙂
Marvel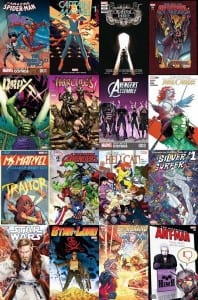 Berikut ini daftar komik Marvel yang terbit tanggal 20 Januari 2016.
Astonishing Ant-Man #4
Captain Marvel #1
Dark Tower The Drawing Of The Three Lady Of Shadows #5 (of 5)
Deadpool #6
Drax #3
Hercules #3
Marvel Universe Avengers Assemble Infinite Comic #3
Max Ride Ultimate Flight #3 (of 5)
Ms. Marvel #3
New Avengers #5
Patsy Walker A.K.A. Hellcat #2
Silver Surfer #1
Star Wars #15
Starbrand And Nightmask #2
Star-Lord #3
True Believers The Groovy Deadpool #1
True Believers The Meaty Deadpool #1
True Believers The Wedding Of Deadpool #1
Uncanny Inhumans #4
Uncanny X-Men #2
Image Comics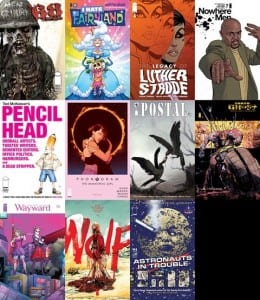 Berikut ini daftar komik penerbit Image Comics yang dirilis tanggal 20 Januari 2016.
68 Last Rights #4 (of 4)
Astronauts In Trouble #8 (of 11)
I Hate Fairyland #4
Legacy Of Luther Strode #4
Nowhere Men #7
Pencil Head #1 (of 5)
Phonogram The Immaterial Girl #6 (of 6)
Postal #9
Symmetry #2
Tokyo Ghost #5
Wayward #13
Wolf #5