Melanjutkan cerita dalam event "Spider-Verse", hadir "Spider-Geddon" yang menjadi event terakhir jagat Spider-Man di tahun 2018 ini. Di sini dikisahkan The Inheritors yang menjadi villain utama dalam Spider-Verse berhasil meloloskan diri dari dunia yang hancur dan sekarang berniat untuk membalas dendam pada Spider-Army, kumpulan karakter Spider-Man (atau dengan kekuatan serupa) dari berbagai dimensi Earth. Naskah cerita utamanya ditulis oleh Christos Gage yang sudah berpengalaman melanglang buana di dunia komik DC maupun Marvel sendiri.
Plot Cerita
Superior Spider-Man (Otto Octopus, Earth-616) mendatangi Earth-1048 dan mengajak Spider-Man (Peter Parker) bergabung dengan yang lain untuk mengalahkan The Inheritors. Meski sempat menolak, Spider-Man akhirnya setuju untuk ikut dengan Superior Spider-Man dalam menghadapi armageddon (pertempuran besar, atau yang ia beri nama sendiri sebagai Spider-Geddon).
Bacaan Pembuka / Road To Spider-Geddon
Berikut ini komik-komik yang menjadi pembuka atau jalan menuju cerita utama event Spider-Geddon.
Edge of Spider-Geddon #1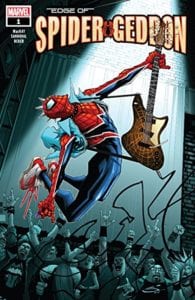 Spider-Punk is back and better than ever. After SPIDER-VERSE, Hobie Brown was a Web Warrior, but that didn't mean things back in his universe were solved. The writer of the SPIDER-PUNK story in SPIDER-VERSE is back and joined by VENOM'S Gerardo Sandoval! Spider-Punk's Earth is under attack both on the ground and from space, meaning his responsibility seems to outweigh his power. Don't miss this first shot of the SPIDER-EVENT of 2018!
Story: Jed McKay
Art: Gerardo Sandoval
Color: Brian Reber
Letter: VC's Cory Petit
Judul Edisi: The Anarchic Spider-Man Sellout
Tanggal Rilis: 15 Agustus 2018
Komik ini menceritakan bagaimana Spider-Punk (Hobart Brown) dari Earth-138 didatangi oleh Spider-Girl (May Mayday Parker, MC2) dan diminta untuk ikut dengannya karena akan ada sesuatu yang besar terjadi.
Edge of Spider-Geddon #2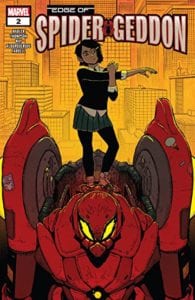 After Gerard Way (My Chemical Romance, The Umbrella Academy) and Jake Wyatt created SP//dr back in SPIDER-VERSE, she was one of the most requested heroes. With Spider-Geddon on the horizon, SP//dr is back. Zac Thompson and Lonnie Nadler are joining the team to bring you the next chapter in Peni Parker's life and set the table for the Spider-Event of 2018!
Story: Lonnie Nadler, Zac Thompson, Gerard Way
Art: Alberto Alburqueurque
Color: Triona Farrell
Letter: VC's Cory Petit
Judul Edisi: –
Tanggal Rilis: 29 Agustus 2018
Komik ini menceritakan bergabungnya SP//dr (Peni Parker, Earth-14512) dalam Spider-Army setelah didatangi oleh Spider-Ham (Peter Porker, Earth-8311).
Edge of Spider-Geddon #3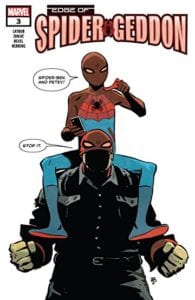 Peter Parker was bitten by a radioactive spider, and it causes his Uncle Ben no end of troubles. Until, that is, Ben gets shot in a mugging and Peter's blood donation turns Ben into a Spider-Hero, too! There's a new dynamic duo in town, and the story doesn't go where you think it will!
Story: Jason Latour
Art: Tonci Zonjic
Color: Tonci Zonjic & Ian Herring
Letter: VC's Cory Petit
Judul Edisi: –
Tanggal Rilis: 19 September 2018
Komik ini memperkenalkan Ben Reilly (Uncle Ben) sebagai salah satu karakter Spider-Man yang eksis di Spider-Geddon. Ia memperoleh kekuatan supernya itu setelah mendapatkan transfusi darah dari Peter Parker. Pun begitu, di sini tidak disebutkan kapan atau bagaimana tepatnya Uncle Ben bergabung melawan The Ihheritors.
Edge of Spider-Geddon #4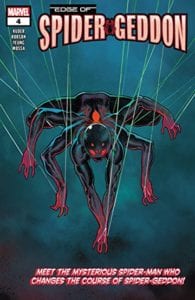 Science-Industrialist Norman Osborn's life changed when a radioactive spider bit him. With young scientist Peter Parker working for his company, Norman became a very different Spider-Man and changed the world. Now, however, Norman's son Harry is seen wearing a green armor suit and threatening everything Norman has built!
Story: Aaron Kuder
Art: Aaron Kuder, Will Robson (Pencils) / Craig Yeung, Will Robson
Color: Andres Mossa
Letter: VC's Cory Petit
Judul Edisi: VC's Cory Petit
Tanggal Rilis: 26 September 2018
Agak sedikit bingung dengan cerita di sini. Intinya, di komik ini, Spider-Man (Norman Osborn) (yang punya 5 tangan!) ditarik paksa oleh Spider-Punk untuk ikut bergabung dengannya melawan The Inheritors.